Shirley Centennial Museum, A Brief History
by Margaret Earnhart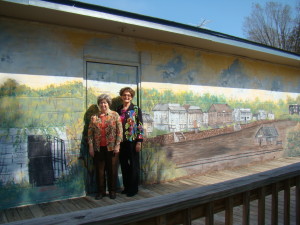 On October 1, 2011, the little sleepy town of Shirley, Arkansas celebrated its 100th birthday. On that same day, the Shirley Centennial Museum opened its doors for the first time.
Prior to this day, the Shirley City Council, consisting of Mayor Johnny Sowell, Clerk Missy Worthing, Aldermen Paul Compton, Ray Earnhart, Lisa Hackett, Floyd Haley and Brandy Kimmons, along with the Centennial Planning Committee of Brandy Kimmons, Kasey Nelson and Ginny Stone, appointed Margaret Earnhart and Kay Weaver to co-chair the History committee.
In July, with time so short, minds started turning. Thoughts of a museum went into motion. There was a lot of information as well as pictures out there to be retrieved. It was just a matter of collecting and assembling all this history in such little time. Our mission was accomplished. We had several individuals bring in pictures and information.
One of the main objects on display is an old Woodstock typewriter, used in the M & NA railroad depot by Lum Halbrook, one of the agents of the railroad from 1917 to 1927. Another major attraction is a thesis on the town of Shirley, written by Glenn Hackett, as well as other articles he wrote over the years. We also have an old "friendship" quilt, pieced and quilted by several ladies of the community in the l950's. Also included in some of our binders is a list of War Veterans, the establishment of Shirley School, class pictures of Shirley Alumni, school yearbooks, history of churches and cemeteries, community church pulpit, ancestry/genealogy of several local families and Paul Compton's thesis on Jim Berry, who shot Bill Dark, king of the Jay-Hawkers of North Arkansas.
This past winter, a light bulb went off again in our head. Doris Sexson was contacted to see if she would be interested in painting a mural on the south side of the museum. She jumped at the idea and planning began. Doris started to work in the spring and completed the mural by our annual June Homecoming. The mural consists of the old train bridge, old jail house, early scenes of the town, old gymnasium, and the old school house before it burned. The mural looks fantastic. Thank you, Doris!
We invite you to come visit our museum. We are open Wednesday and Saturday from 10 a.m. to 2 p.m or by appointment by calling Margaret at 723-4748 or 253-2115. We are located in downtown Shirley. You can't miss us.
A special thanks to our volunteers and those who donated in some way: Pam Berry, Shirley Bradford, Dorothy Cates, Paul & Compton, Jim & Ginny Faulkner, Gerald Harper, Laquita Colliar Adams, Inez Privitt, Sherry Lewis, Calla Linn, Glenda Keenihan, Jim & Thelma Murray, Betty Shull, Bonita Worthing, Laquita (Collins) Adams, Billy Burgess, Ray Johnson, Jackie (Williams) Maxwell Evans, Jane (McKinney) Privitt, Shirley School District, Jim Wakefield, Wilburn & Kay Weaver, Glenn Hackett Family, James A. Barnum Family, Watson/Celeste Smith Family, Kermit Towery Family, FFB Museum and the VBC Sheriff's Office (painting our building). Please give us a call if you have pictures, articles, items, etc. you would like to donate or loan to the museum.