Animal Shelter News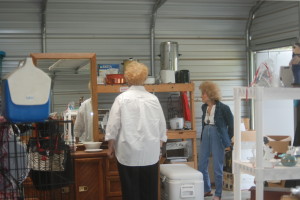 We held our first "garage sale " at the Animal Shelter May 18 in conjunction with our Open House. We'd like to thank all the folks who attended our event! It was a great success, and we fostered 2 puppies ! We will be having the sale every month. The dates will be June 8th, July 13th, August 10, Sept 14, Oct. 12, Nov. 9. After that, we'll see how the weather treats us! We hope to offer new items each month. If anyone would like to help with the sale, or if you have items you'd like us to feature, please call the shelter at 884-6417, Willa Wells @ 884-3218, or Linda Ritchie @ 884-3396.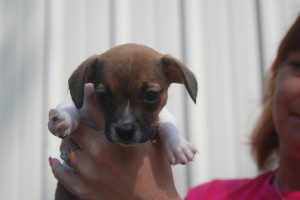 What a Mug!! This puppy would make a perfect pet for any home. Come out to the shelter and you'll find a friend for life. Happiness is the wagging of a dogs tail and the soft gentle purr of a loving feline.
Furry Friends, Healthy Hearts
That four-legged friend of yours may be more than a companion — he also may be boosting your heart health, experts say.
An official statement released Thursday by the American Heart Association says there is evidence that having a pet, particularly a dog, may lower your risk of heart disease. Cardiology specialists weren't all that surprised.
"Pets really might be man's best friend," said Barbara George, director of the Center for Cardiovascular Lifestyle Medicine at Winthrop-University Hospital in Mineola, N.Y. "Studies have shown people who own pets, particularly dogs, have lower blood pressure, increased mood-related brain chemicals, better cholesterol numbers, lower weight and improved stress response," George said.
Members of the American Heart Association (AHA) committee that wrote the statement reviewed data from an array of relevant studies. They found that pet ownership appears to be associated with a reduction in heart disease risk factors such as high blood pressure, high blood cholesterol levels and obesity and improved survival among people with heart disease.
"Dog ownership in particular, may help reduce heart risk," the statement said. People with dogs may get more exercise because they take their dogs for walks. A study of more than 5,200 adults found that dog owners did more walking and physical activity than those who didn't own dogs, and that dog owners were 54 percent more likely to get the recommended level of physical activity. "Walking your dog is a healthy chore; it is a great way to exercise without thinking about it," said Dr. Nieca Goldberg, clinical associate professor in the department of medicine at the Tisch Center for Women's Health at NYU Langone Medical Center in New York City. "Pet owners increase their physical activity simply by walking their dogs."
Pets can also have a positive effect on the body's reactions to stress, according to the AHA. George agreed, saying pets can be "a tool for weight loss, socialization, calming our nerves and easing anxiety and depression."
The AHA stressed, however, that the studies they reviewed cannot prove that owning a pet directly reduces heart disease risk. "It may be simply that healthier people are the ones that have pets, not that having a pet actually leads to or causes reduction in cardiovascular risk," statement committee chairman Dr. Glenn Levine, a professor at Baylor College of Medicine in Houston, said in an AHA news release.
"There probably is an association between pet ownership and decreased cardiovascular risk," he said. "What's less clear is whether the act of adopting or acquiring a pet could lead to a reduction in cardiovascular risk in those with pre-existing disease. Further research, including better quality studies, is needed to more definitively answer this question."
In the meantime, George said, humans can benefit from the mental and physical rewards of furry companions. "Pets tug at our heartstrings," she said. "But they also improve our health — both mental and physical — helping us to live longer and happier lives."